Chinese love buying overseas?
Chinese buyers love the UK!
Why are Chinese so obsessed with buying property?
Adapted from Juwai.
Home ownership remains elusive for most millennials around the world, 70% of China's millennials (aged 19-36) are already proud property owners.
These findings, sourced by an HSBC survey, puts China well ahead of the US (35%), UK (31%), and France (41%) in the home ownership rankings.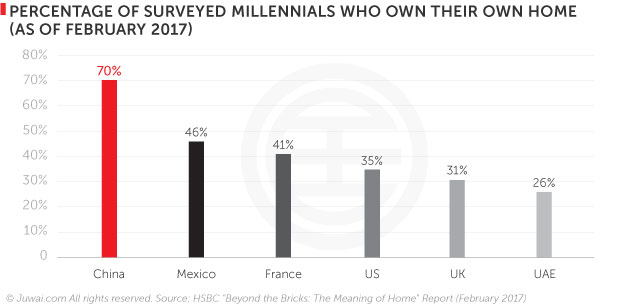 The survey further revealed that millennials in mainland China are keener to invest in property too.
94% of Chinese millennials plan to buy property in the next five years, compared to 69% in France, 74% in the UK, 80% in the US, and 82% in Canada.
Such focus on property ownership has helped drive a record-breaking sales year in China last year, with sales totalling ¥9.9 trillion ($1.45 trillion) in 2016, up 36.1% y-o-y, according to China's National Bureau of Statistics.
Yet, as demand for real estate continue to grow amidst housing prices that continue to remain sky high despite stringent cooling measures, even Chinese millennials are beginning to find buying property in China becoming a herculean task.
Against such a backdrop, it only makes sense for Chinese property investors to look abroad for better options and value for money, such as the US, which saw Chinese sinking what Asia Society estimates to be $93 billion into American real estate between 2010 and 2015.
10 factors underpinning the Chinese passion for property:
1 Growing desire to upgrade to modernity
2 Limited investment channels available in China
3 Investment security
4 Strong homeownership aspirations
5 Essential marriage criteria
6 Face culture and social status
7 Opportunities, opportunities, opportunities
8 Family roots

9 Stellar returns on investments (ROIs)
10 Government restrictions
Average housing prices in Beijing is $5,820 per sqm, making it one of the priciest housing markets in the world.
China's red-hot domestic property market has led to the Chinese government regularly bringing in restrictions on property, especially in recent years.
This makes investments in other areas of the world very interesting to Chinese buyers. LLNH are specialists in UK investments and have a large portfolio of properties which are geared towards overseas investors. With over 20 years of real estate knowledge we have helped setup property portfolios for individuals and companies globally.